Lex Limbu is a Nepali blogger and YouTuber based in London. He has been blogging since 2008 and in 2014 he decided to set up his own company, Tracing Nepal, which aims to reconnect those living in the diaspora to their Nepalese roots. His website, lexlimbu.com, is a popular blog focusing on the happenings and culture of Nepal and the Nepali diaspora. Lex has rapidly gained traction and has been featured in a number of reputable magazines, including WAVE, Navyaata, The Kathmandu Post, BOSS Magazine and Republica. We met Lex in Camden to discuss his journey as a blogger and what impact his Nepalese culture has had in this.



Why do you believe it's important that we share the stories of Nepali people with those from outside of the community?


There are projects dedicated to Nepalese people in the UK, but the barrier is that we are pretty much stuck in a bubble within our own community. It's always commendable when we try to venture out and create these bridges outside of our community. That might be a daunting thing, but it's really great that there are platforms, like OON, that are trying to do that. Amongst that, Nepalese projects are often less involved when it comes to cross-cultural collaboration, so it's important we get our voices out there.




You've done an amazing job at creating a platform through your blog and through your work to provide a voice for Nepali communities. Do you feel like your work has had an impact on the issues you've highlighted above?


When I started the Lex Limbu blog, I was 15 and, I didn't have a clear idea of what I was doing or what I wanted the outcome to be. It started out as a hobby which then developed into something more. I often say this, Tracing Nepal is probably my proudest achievement that I believe has had the most impact. It made me realise that Tracing Nepal has had the most profound impact because through this platform we have been able to directly shape somebody else's experience and how they interact with the world.


Would you say, then, that the blog is about you and your relationship to Nepali culture, and Tracing Nepal is about giving back to the community?


Yes, I'd say so. When I started blogging in 2012, Instagram wasn't as big as it is now and running a blog was much more the in-thing to do. I was much younger, and I do think that a lot of young people feel pressure to have everything figured out immediately, but sometimes when you do something with the intent to do good, it has a tendency to work out. In my case, it did work out because I had no idea of where I wanted to take this project. The more of myself I put into it and the more love and criticism I faced because of what I posted or did not post, made me reflect on the kind of person I wanted to be online. The aim is always that your online personality reflects who you are in real life because the biggest pitfall in social media is when your online and offline personalities are completely different.




It's fascinating to hear how the different roles you've had have influenced your personal growth. Do you feel like your move to London has also played a part in this?


I moved to the UK from Brunei back in 2000, when I was only 8 years old and have lived in various small towns in England that weren't very diverse. When you're the only Asian kid at school, your identity is much more entrenched because of your visibility as a young person. While in primary school you may not register the differences, in secondary school, you start to pick up on the fact that you are seen differently to the other kids around you. This was why I wanted to go to attend university in London - because I wanted that international experience and I wanted to mould into the spectrum where I was no longer the odd-one-out. I never hated being the odd-one-out at school, but I wanted to go to a city where I could make friends from all over the world.

Up until university, I had the very romantic idea that after graduation I would return to Nepal and work. Having left Nepal when I was only two years old, I hadn't actually spent much time there and therefore only knew the fun side of where I was from. After my undergrad, I decided to go back to Nepal for a year where I set up Tracing Nepal and worked for a company that specialised in poverty alleviation. It was then that I realised how difficult life can be in Nepal and that there are so many differences to people's way of life in England. In the UK I would always present myself as a Nepali person because that's how I stood out, and it took me living in Nepal to acknowledge the UK's influence on my identity. Suddenly, it made me realise that I don't have to be one thing - I can be a bit of both. When it comes to identity, traditionally you are one thing and it scares people when you say that you are a bit of both. Especially after I came back from Nepal, I became a lot more comfortable with the idea of seeing the UK as a home too. I'm really happy that I am now able to acknowledge how the UK has had a huge hand in shaping the person that I am today, in addition to my Nepali roots which have been heavily passed onto me by my parents and the community here.



How did you find your voice through blogging?


Early on in my blogging journey, I produced a lot of my content on YouTube which, back in 2006-2007, wasn't as easily accessible to people in Nepal. That's why I switched to blogging because people were still regularly reading text blogs. I realised very early on that as somebody who puts content out on the internet, a lot of the news that we find has already been posted by somebody else 10 minutes ago. So, there's a huge responsibility for you to make your message unique and it's that hunger to make my content stand out that really pushed me to have a voice. Everyone has a voice, but some people are more comfortable using it or are able to use it differently. A lot of what I'm doing is not original, but I always try to think, how can I make this even more interesting? I think because my blog was such a challenging terrain to navigate at that time, I was pushed to have a voice and use it because I knew that it would give me the edge. Having the blog empowered me to say what I wanted to say, and it was this drive to make my blog unique that really gave me my voice.


Your blog is about researching a topic using multiple sources and condensing the information so that it's digestible for people to understand. It's a very impressive feat that you were able to do this from the age of 15. How did you manage it?


Everything is a learning process. When I look back at the things I said 12 years ago about a particular person, film or piece of music, it does shock me. Now, the bar for the internet is much higher and there are many more young people creating content, so I completely get why content creators are much more cautious about the type of content they put out. With the internet being as immediate as it is, where you can share things at the click of a button, you don't really think about how far it will go. In that way, sometimes slip-ups can happen and it can lead to you being trending on social media for the wrong reasons. It's such a different time and had we had that level of access or visibility when we started out, I'm sure we too would have gained an infamous reputation. As a young person, I have always been quite chatty and was very talkative at school so it wasn't that difficult for me to find my voice, but I can see how it could be daunting for a teen from a minority background to express themself in this way with today's technologies.


As a British Nepali, do you feel that we have a strong presence in the British media?


We rarely see Nepali migrants and second-generation British-Nepali people represented with regards to their involvement in wider society, their role in the UK's cultural landscape or their contributions to certain conversations about race or culture. I think this might come down to how we are as a community, for generations, we have been taught to accept things the way they are. I think this has led to the younger generations, now living in the UK, to turn a blind eye and not want to get involved in matters that affect them. I've noticed that a growing number of Nepali people from the UK, myself included, are going back to Nepal and making a name for themselves there - whether this be in cinema, music or film. It's so much tougher to make a name for yourself here than in Nepal, there is such a lack of diversity on-screen in film and television series. For instance, if you're an actor in the UK there is the added pressure of going to auditions knowing that you will be the only Nepalese person there. It's this lack of representation that provides barriers, I feel that this is where we need to collaborate or create a network of people from different backgrounds. I work in the charity sector and in the office environment, it's a very white space. It's these little battles that we face every day which stop us from wanting to be more visible than we already are. That takes a huge level of grit so I think it's very important for us to network with people outside of our nationality or ethnicity.



We were really moved by the video you made about your family and how you came to terms with your sexuality. Would you be comfortable to tell us a little bit about that?


When I was growing up my sexual orientation wasn't really a huge thing for me. Because of my confidence and loud personality, I was never bothered by other kids at school and if someone did say something, I could easily defend myself and brush the comment off., At home, nobody made me feel different because to my parents, I was always just their son. However, as a young adult, there comes a point in time where you suddenly have a need to explore where you fit on this spectrum and you can't avoid the subject anymore. For the longest time, I didn't feel the need to tell people that I was gay because I told myself that if straight people don't do it, then why should I? But when it comes down to it, we have a duty to tell our stories if that means we can empower others.

When I was in Nepal, I met a lot of gay people who were disheartened by their place in society and couldn't see a bright future for themselves, given how homosexuality is widely viewed. It made me more determined to put my story out there so that other Nepalese might be more comfortable to come out. It was this trip that encouraged me to be more open about my sexuality and subsequently create the video. When we tell our stories, we like to be the hero, but we don't always make space for the other people around us that have had a massive impact. I realised that by sharing my journey through this video, there would be a possible impact felt by my family members and so I felt that it was important for my mum and my dad to feature as part of the story. My mum is not well-educated and since this isn't something our parents have ever been exposed to, I felt that my mum's voice would add value for other parents watching who might be going through the same thing. It will be a long process to try and educate them, but we have to do what we can. Our parents have been patient with us growing up and now it's our turn to be patient with them.





As someone who has already been through it, what advice would you give to young Nepali people and their families who are coming out in a culture that isn't always accepting?

Identify the things you like about yourself, hold onto your individuality. I would always encourage young people to find that thing that makes them unique because when you are kind to yourself, you are much more accepting of the love and opportunities that come your way. It's important to have a strong support system around you and it's especially important that parents do not box their children in too soon. It's easy for us to label people but try not to make any assumptions until that person feels ready to come out to you. It's a lot harder for some people to embrace a gay person who lives in their household than someone they aren't related to. You have to be willing to accept it on all levels and when the person does feel ready to come out to you, you need to be ready to embrace them and celebrate.



How do you decide what you share online?


Think that any individual who engages on one of these sites has a platform. Even if you have 100 followers, you are an influencer. But that also means for individuals like myself, who have been creating content from a slightly different time of social media, we are constantly thinking about how we fit ourselves into this new landscape. As a social media user now, it's difficult to decide on what I should talk about and what I should not talk about. There's a pressure to always have a say on everything and particularly when there are so many awful things happening in the world, I feel the need to draw myself away from the news because it ends up having a negative effect on me. I align myself with particular causes, such as Dalit Lives Matter and causes for the LGBTQI community because they are personally very important to me, but I've made peace with the fact that not everything requires my voice. It makes sense for me to pick certain causes and then be much more active in those specific areas.

I'm trying to do more in Nepal than the UK, with regards to championing LGBTQI causes. The reason being is that there is a much greater lack of representation in Nepal. I want to reach a completely different audience who may not have any knowledge of these subjects, for example, people living in the villages. To get some people to understand the struggle, we need to draw parallels with issues they do understand, like racism or the caste system. It's very important for us to be curious and for us to question so that we can learn. That's how I think I can help in terms of queer representation and attitudes towards queer people in Nepal. I also want to challenge gay representation in Nepalese cinema because whenever we are featured in film, we are always depicted as flamboyant and effeminate, which isn't the reality for many gay men. In doing so, it reinforces certain stereotypes about the LGBTQI community and I fear it might stop some people from coming out if the gay experience they see on screen doesn't match up with their own experiences.



How did you find the NGO's to partner with Tracing Nepal?


A lot of what I do in Tracing Nepal is partnering with schools and establishing a communication rapport. Everyone signs up to Tracing Nepal for different reasons: some come because they want to explore and understand the country, some come to volunteer and build up their CV and some even sign up because they want to change the country. I'm going to try my best to ensure that if and when people from outside the community join our projects, there is more of an impact when it comes to financial contribution or in terms of resources and skills which are passed onto the community, without disrupting their way of life in any way. There are enough charitable organisations out there doing a similar thing, but with Tracing Nepal I want people to have the understanding that unlike other companies, what they are paying for goes straight back into the community.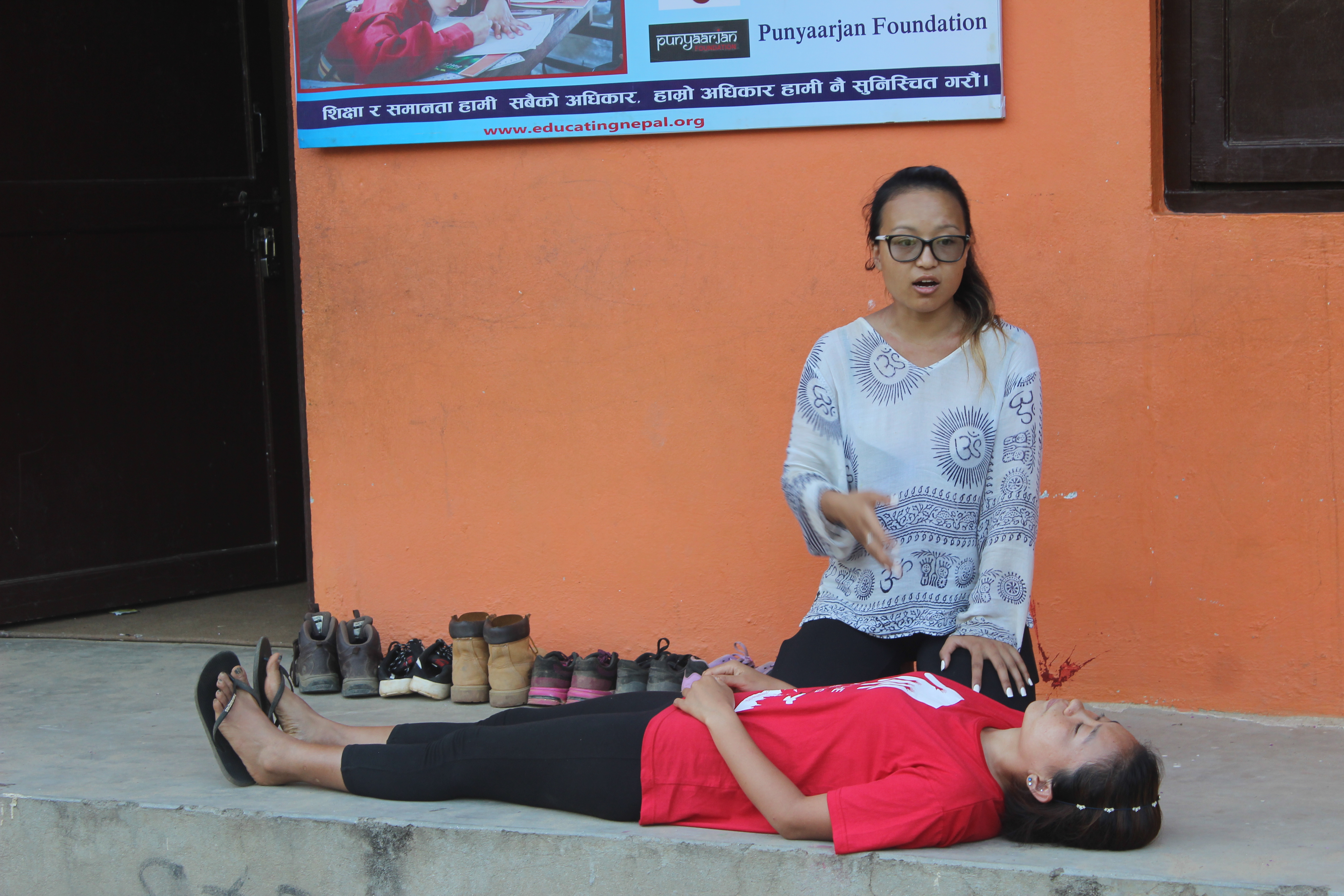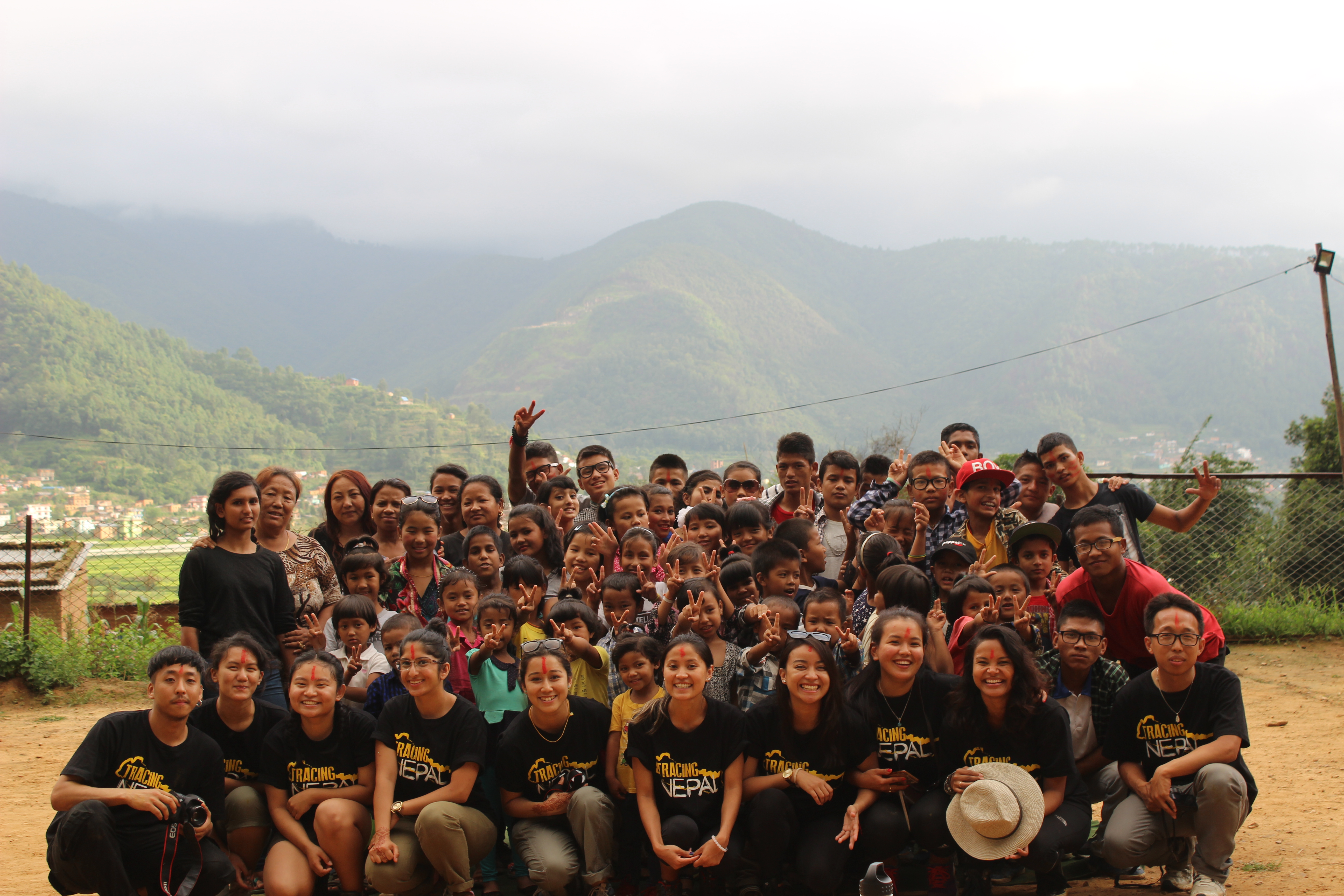 So, what's next for you and your projects?


I don't really like sharing my plans because I get worried that in the event that what I say doesn't happen, then that person will hold me to it forever. In terms of 2020, I had two trips planned for Tracing Nepal because we expected this year to be a big year. Surprisingly, I haven't felt disappointed by how this year has gone because I've come to the realisation that you can't change what's not in your control. In terms of the future, one thing I am happy to share is that I hope to grow Tracing Nepal so that instead of doing just one trip a year, we have the capacity to do a few trips every year to meet increasing demand for the project. To date, Tracing Nepal is only open to people of Nepali background living outside of Nepal, but I see the potential to create an experience for young people from Kathmandu, the capital city, to visit surrounding villages. Just because you live in Nepal doesn't necessarily guarantee that you have experienced how other people in the region live. So, I would like to work towards that and then eventually the goal is to open Tracing Nepal to non-Nepali people, doing it in a manner where we have more control over what we are offering so that it doesn't become another carbon copy of voluntarism. That's the long term plan and I'm not sure what will happen now what with the travel industry collapsing, but I definitely believe that there are better days ahead.