OON LIVE 2020
with YELMO

(Raising Mental Health awarness in Creative industry)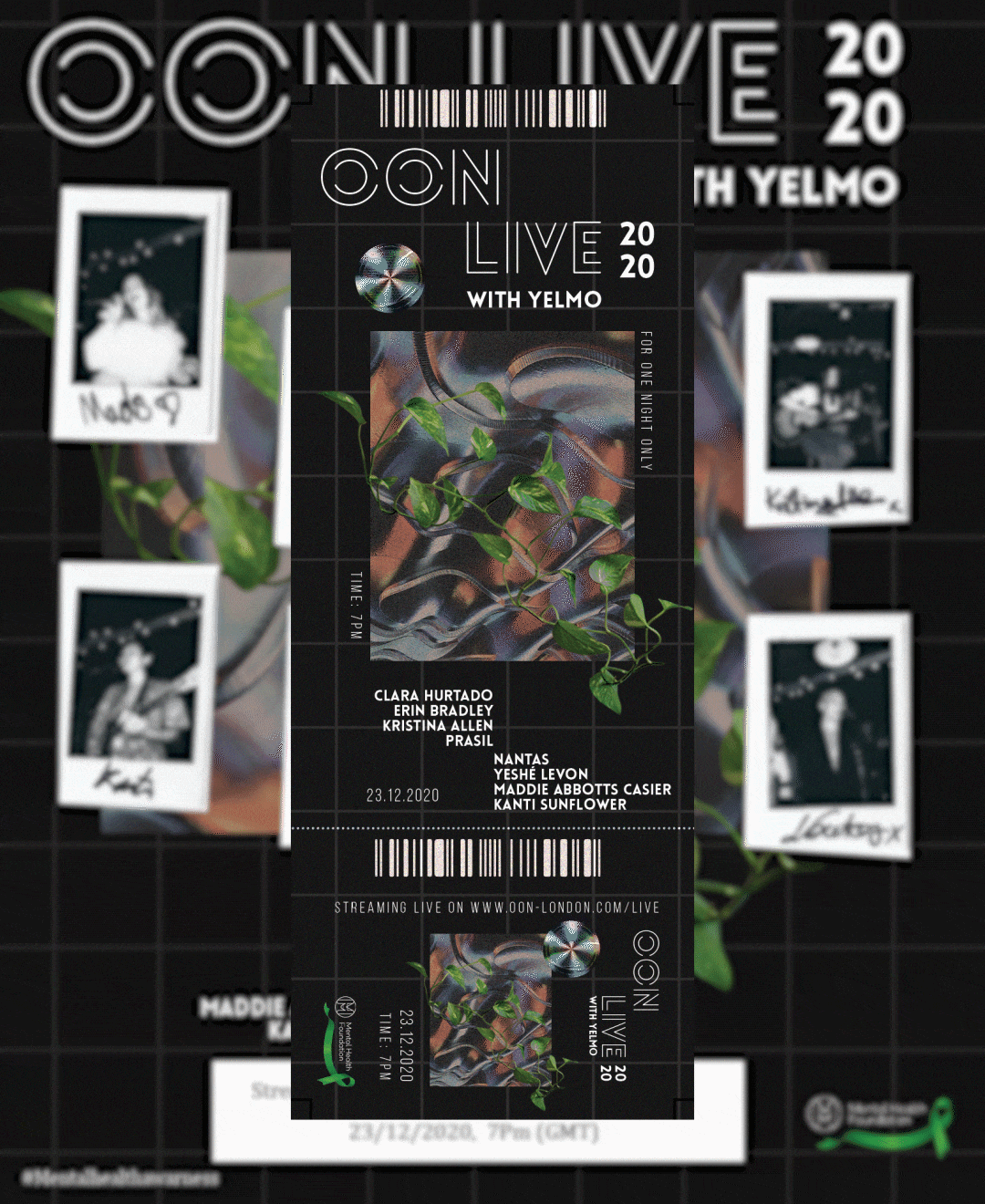 The OON live 2020 session, streamed on Wednesday 23rd of December 2020 in aid of the Mental Health Foundation UK.
Filmed at Fiction Studios in the heart of Farringdon, this is the second of OON's live streamed sessions, with the help of fiction's own Nathan Cooper.
The line up included artists Clara Hurtado, Erin Bradley, Kristina Allen, Prasil, Nantas, Yeshe Levon, Maddie Abbotts Cosier & Kanti Sunflower all collaborating with the 'sexy soul based hiphop' beats of Yelmo Band, George Alan, (Guitarist, Bassist and co-producer), Musa Henderson (bassist and co-producer), Dominic Walker (synth and saxophone), James Cardwell (drummer), Jonathan Njoku (keys).
The night also featured interviews with Chrisia, who will talk to the artists and discuss their experiences of mental health within the creative industry.


Artist Line Up :

Clara Hurtado, star of the Voice 2017, made her way into the judges hearts with a cover of 'Latch' by Diclosure ft. Sam Smith. Clara made it through to the live shows where she performed Anne-Marie's 2016 hit, 'Alarm' before being knocked-out.
Speaking with Chrisia, Clara talks about how making music can be 'a lonely walk' and how important it is to 'have the right person to back you as well.' Clara's honey vocals remind me of 'Best Part', a colab with H.E.R on Caesar's 2017 album 'Freudian'.
Released this year in June around the resurgence of the Black Lives Matter protests, 'I can't Breathe', is my favourite of Gabriella Wilson professionally known as H.E.R's work so far, H.E.R states that for some white folks 'that kind of uncomfortable question is too hard for your trust fund pockets to swallow.
"My View"


---
ERIN Bradley
︎
︎
Next we hear from Erin Bradley, London based RnB, Jazz, Fusion, Pop vocalist and multi-instrumentalist.
In 'Bubbles' we hear Erin's clarinet roll alongside Yelmo band, that they worked on previously together. Erin's lyrics ring tones of Zimbabwean, Dublin based DJ turned singer-songwriter, Shiv on her track 'Golden.'
With Chrisia, Erin says how she enjoys collaborating with Yelmo on 'Bubbles.' Erin speaks about how music can help some people express issues around mental health.
This reminds me of Andalusian artist Maria Jose Llergo speaking with ColoursxStudios she says, 'I learnt to express my feelings singing, it was more liberating than talking or crying because crying it hurt a lot, and singing it was something beautiful'. Erin finishes by saying that music is making her 'even more happy than she already is.'
"Bubbles"


---
KRISTINA ALLEN
︎
︎
︎
'Sign' out now on spotify.
'I'm just taking my anger and writing this song'
Born Bhutan and raised in Nepal, to Nepali Mum and British Dad, our first Nepali to perform on the show is Kristina, who started making music when she was just 8 years old.
Speaking with Chrisia, Kristina shares her feelings of culture shock and loneliness when she first came to the UK 5 years ago.
Kristina talks about her struggles with depression and how it is important for 'one to look within and build a strong inside so whatever the outside throws at you can handle it.'
"Aakash Ko Tara"


---
PRASIL
︎
︎
︎


Now we hear from Nepali artist Prasil.
Prasil says his favourite track to perform was their cover of Leon Bridge's 2016 track 'River'. He says he can relate to how the artist sings 'about his past sense, then tries to baptise himself' anew.
In Bridge's award winning music video directed by Miles Jay's SXSW we see moments of tenderness, and compassion in the black community in Baltimore, the site of Freddie Gray's death in April 2015 and the resulting Baltimore protests.
'In my darkness I remember mama's words reoccur to me,
Surrender to the good lord and wipe your slate clean'
Prasil says that 'mental health is more prevalent these days' and how 'it's more frowned upon in Eastern Society… it's like oh he's weak minded…being an artist you have to keep in mind that you just have to try to keep going and keep a good mindset.'
"River by Leon Bridges"


---
NANTAS
︎
︎
Next we hear London based, Italian Queer artist and stylist Pier Paolo, professionally known as NANTAS, cover Madonna's iconic 1989 single 'Like a Prayer'. In this version Andrae Crouch's gospel choir, is replaced by George Alan's jazzy guitar accompaniment.
NANTAS shares that when they were in Italy aged 19, before moving to the UK, he experienced severe depression and OCD but that he is grateful they can talk about it now and that even though he was very nervous to perform the set, they think it's important to bring mental health to the conversation through music.
NANTAS finishes by saying to his 19 year old self, 'cry, baby, cry…keep on doing what you are doing.'
"C U in Paris"


---
YESHE LEVON
︎
︎
'Music has been my therapy'
Yeshe Levon says writing and creating music is like a kind of meditation, 'you can't think about anything else…you are just so involved.'
Yeshe sees music as 'a spiritual thing…that whole thing of what you say you kind of speak it into existence..in a way, when you make music, you materialise a thought or feeling and that has powerful energy in itself.'
Yeshe describes how if one track can be 'consoling for one more person in the world, that could take them out of a situation…as a human.'
"Why won't you call me?"



---
MADDIE ABBOTTS COSIER
︎
︎
︎
Growing up in a family of singers in Birmingham, Maddie Abbotts Cosier started writing and making music from the age of 13. When we asked about her experience of performing at Fiction studios Maddie says she 'enjoys being a cog in a lovely machine, sharing the experience with other musicians. Abbotts speaks about the rawness of opening up about mental health issues in an interview, the experience of loosing a friend, and how musicians try to communicate their feelings via music.
In addition to Ella's legendary 1968 'Summertime',
'One of these mornings
You're going to rise up singing
Then you'll spread your wings
And you'll take to the sky'.
Maddie and Yelmo perform, 'Wasting Time' ft. Bassist Burger Bigmore, which is due to be released in the New Year.
"Wasting Time"


---
KANTI SUNFLOWER
︎
︎
︎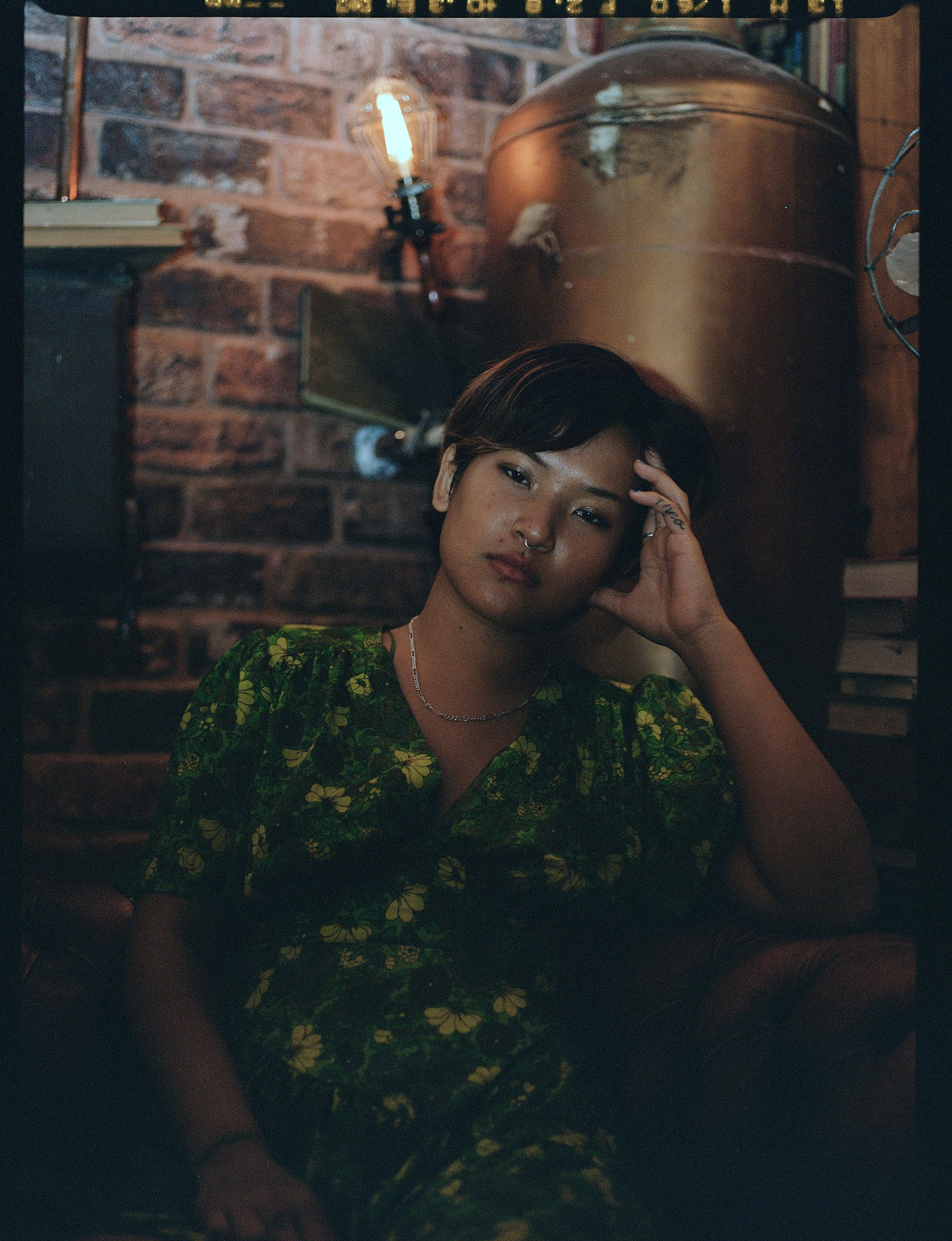 'Music is a way to translate emotions'
Artist Kanti shares that migrating from Nepal to England, music was a way 'to communicate things to (her) parents.' Kanti describes the guitar as an 'immediate response to emotions'.
With two older siblings, Kanti says her parents were more 'free' on her, and how she feels support from her sisters too.
Kanti goes on to say that creatives don't get enough support from the industry, so she uses her music and social spaces online to talk about mental health.
"Shut up and Dance"


---
Christmas time can be incredibly triggering for everyone however you celebrate. Especially this year in lockdown season, with monetary, familial, social pressures, and excessive consumption the Mental Health Foundation is here to remind us how important it is to take time out for ourselves where needed and don't be afraid to reach out.
You can access support and/or make a donation at :
https://www.mentalhealth.org.uk/donate

And make sure to check out their blog below :
mentalhealth.org.uk/christmas/blog/you-and-your-mental-health-still-matter-christmas
And a handful of other fantastic mental health organisations to access should you need and spread the festive cheer by supporting where you can :
︎: blackmindsmatteruk.com

︎:@existloudly
︎: stem4.org.uk
︎: gurlstalk.com


---
︎: Chrisia Broda
︎: Lucy Mabbit