Sujata Gurung is a British-Nepali visual artist living in Ashford, Kent. She moved to the UK at the age of 13 and ever since has struggled to navigate her dual identity. In her final year of University, she started 'Pahichan'. In this project she makes it her mission to showcase the rich Nepali culture, in particular spotlighting young British-Nepali who have adopted British culture and have made a positive impact on their communities. We met up with Sujata in a small café in Soho to learn more about 'Pahichan' and how her Nepali identity continues to inspire her Visual Art.
OON: Hi Sujata, Could you please tell us about your project "Pahichan"?



Pahichan was my final project at university - I had a brief idea of what I wanted to do but I wasn't sure what I would end up with. I started to look within myself and wanted this project to be a reflection of who I am. So I came up withPahichan - meaning 'identity' in Nepali . It was a very personal project of mine in which I hoped to explore my own identity through championing the images and stories of Nepalese people. In my work I combine tradition with artistic styles of the contemporary, noting how our cultural history continues to bind us to our ancestors.



What was the trigger that inspired this project?



In 2015 I went to Nepal for the first time without my family. I found that being there alone was a completely different experience and from there I started thinking about what it actually means to live in the diaspora. Following this, I found some artists who took inspiration from this idea and were willing to share their personal experiences through their art.



What do you want to accomplish with this project & what's the takeaway you want people to have when they see your pictures?


In all honesty, that isn't something I've given much thought. I just want to keep taking pictures and show people a different side to Nepalese identity. I would like my work to speak to other Nepalese people who aren't used to seeing their experiences reflected in photography. I would like them to see my work and be proud of who they are and where they're from. We have a beautiful culture and it's something that I believe should be celebrated.



Among all your work that you have done. Which one is your favorite & what has a special kinda place for you?


I'm actually not sure. Since every photo has a distinct memory behind it, it's hard to choose between them. If I had to choose, I would probably say my shoot with Varsha has been one of the most memorable experiences to date. She's such an inspiration for me and I feel extremely blessed that I got the opportunity to workwith her.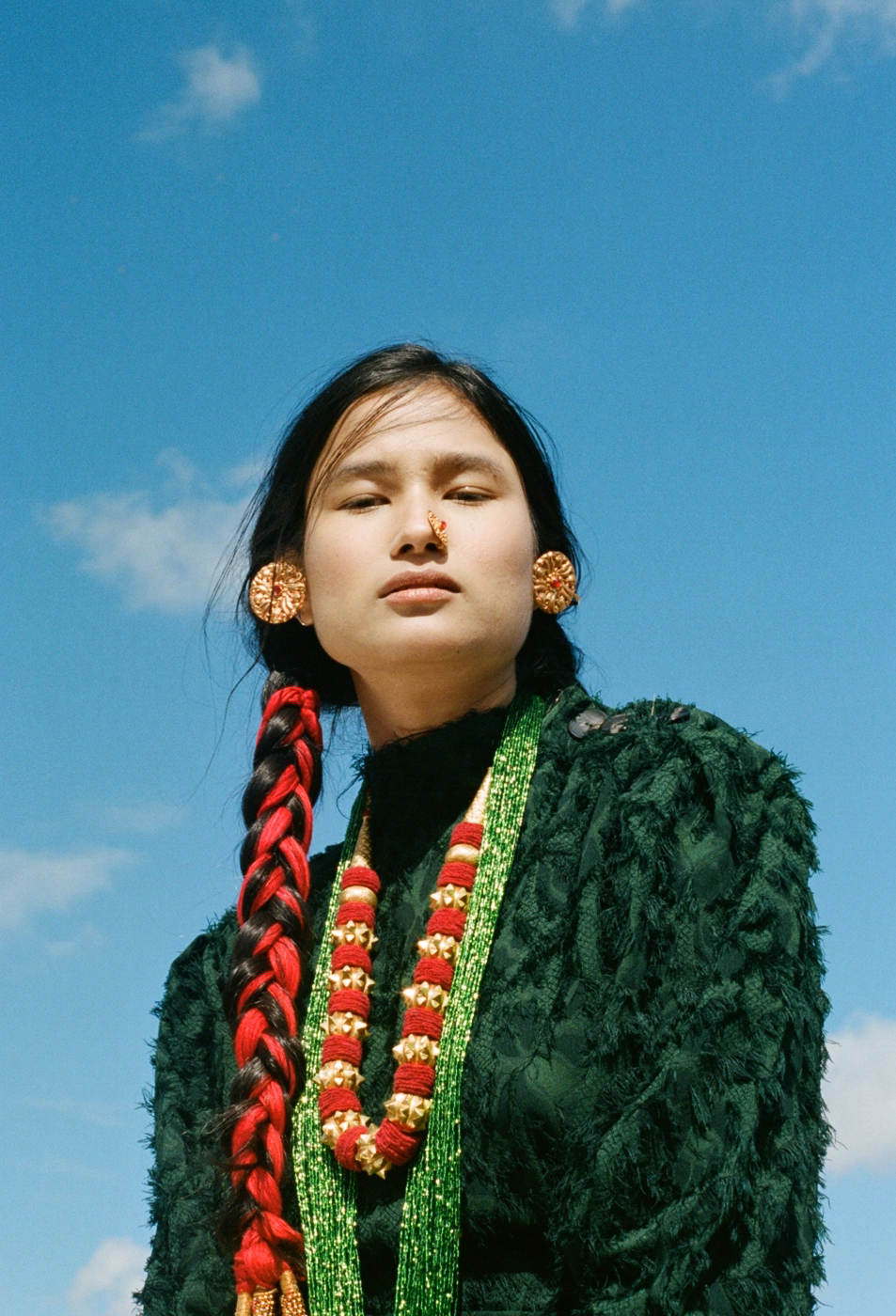 Do you have a shooting strategy or creative process when you shoot?


I try to plan things ahead but I am a very last minute person so I mostly go with the flow. That being said, before each shoot I do like to have a conversation with my models to find out what they hope to get out of the project. Each shoot is incredibly personal so I like to capture aspects of the model's personality in every photograph.



Do you ever struggle with your identity as a British/Nepali and your experience going out in two different cultures?


I think I have always struggled with my own identity but after moving to London and gaining the freedom of living away from home, it gave me the confidence to explore these feelings. I grew up in Ashford where the Nepali community is huge and everybody knows everyone. There, I felt restricted but in London there are so many people from different backgrounds and being here provided me with the right environment to fully explore my dual heritage. At first I did struggle and I do still sometimes struggle, but I am lucky enough to have a creative outlet that enables me to work through these emotions in a constructive way.


What's the best advice you have ever received, and what advice will you give to someone who is interested to do photography?


This isn't really advice, but in year 11 I had an art teacher who is undoubtedly a big factor in why I do what I do today. Despite my lack of confidence in my work,he saw potential in me and always pushed me to do better.

To anyone who has an interest in pursuing photography as a career, I would advise you to keep doing what you love and remember to challenge yourself. Play around with the materials you have - it doesn't have to be perfect but always strive to improve on your last project.



What motivates you to take pictures?


The messages I receive and also the joy I get from shooting. My aim is always to inspire the younger generation and show them that they should be proud of their cultural heritage. We need the younger generation to use their influence and share their perspective within their industries where our voices are often not heard. Be expressive of who you are.



What is your upcoming plans and goals?


I've got lots of long-term plans I want to carry out but for now, I'm just going to keep shooting and working on my project, Pahichan.