Stylist/photographer– Sujata Gurung is a British/Nepali visual artist living in Ashford, Kent. She moved to the UK at the age of 13 and has been struggling to find her dual identity. In her final year of University, she started her small project "Pahichan." This project has now been her mission to showcase the rich Nepali culture and how young British/Nepali have accepted the culture living in the UK -showing a positive impact to the community. So we met up with Sujata in a small café at Soho to learn more about "Pahichan" and how her Nepali identity continues to inspire her Visual Art.
OON: Could you please tell us about your project "Pahichan"?



Pahichan was the final project of my university. I had a brief idea of what I wanted to do but I wasn't sure what I will end up with. I started to look within myself and wanted this project to be a reflection of who I am. So I came up with Pahichan - meaning identity in Nepali . It was a very personal project of mine where I was exploring my own identity but through different mediums. It's also about looking at Nepalese identity in a different form.



OON: What was the trigger that inspired this project?



The main inspiration came from when I want back to Nepal in 2015 as it was my first time visiting Nepal without my families which was a complete different experience and also by looking at diaspora of different artist and how do they share their personal experience in a different forms.



OON: What do you want to accomplish with this project & what's the takeaway you want people to have when they see your pictures?


Frankly, speaking I don't know yet. I just want to keep taking pictures and show people a different side of Nepalese identity. I want them to connect and narrate their own story through my pictures. Make them feel confident of who they are and where they from. I hope my work could make them feel good about themselves and they could relate and reflect their own true self through my work.



OON: Among all your work that you have done. Which one is your favorite & what has a special kinda place for you?


I actually don't know , it's hard since every pictures has a lot of memorable and fun moments but shooting with Varsha has been one of the amazing experience which I never thought of and to work with her was an incredible experience for me.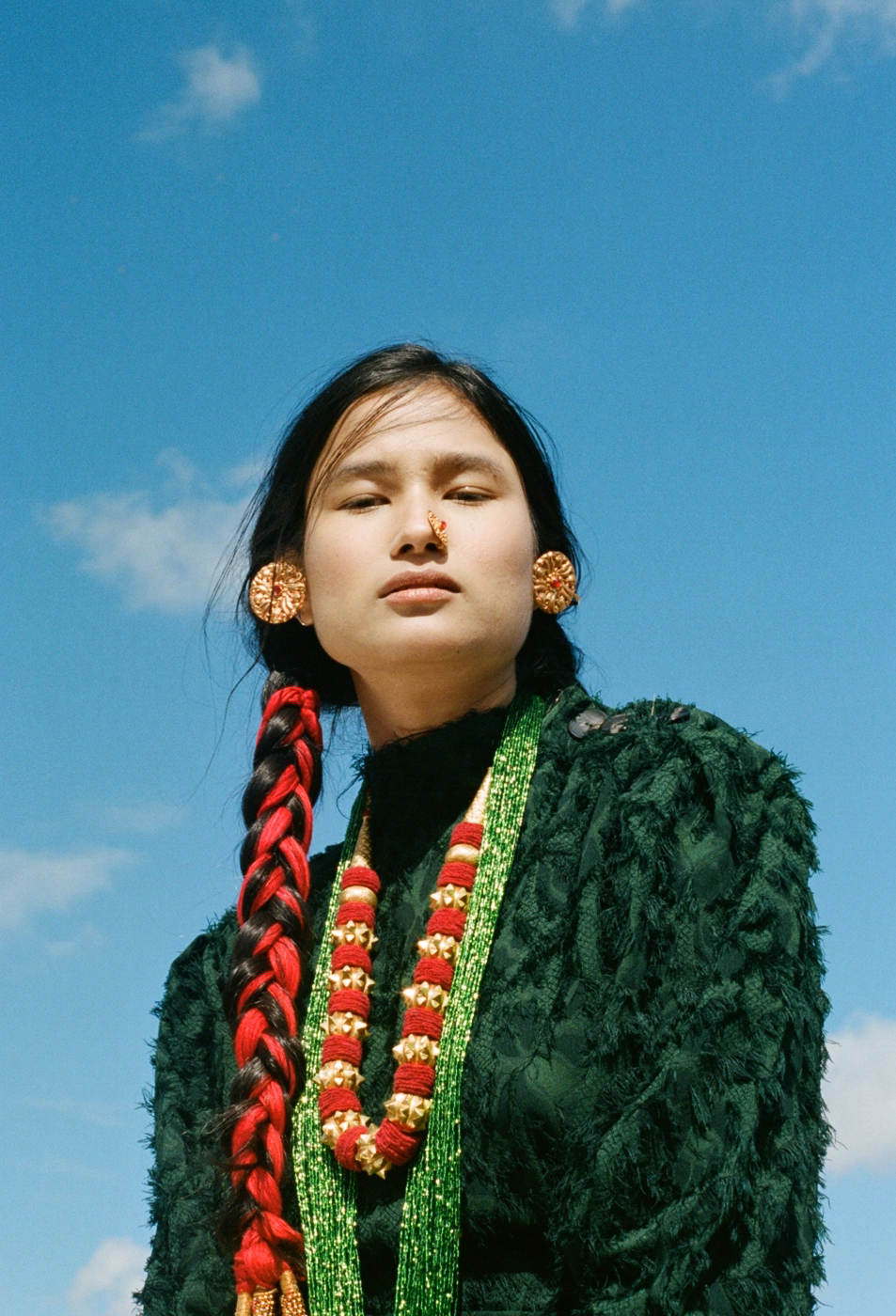 OON: Do you have a shooting strategy or creative process when you shoot?


I try to plan things ahead but I am a very last minute person. So, I mostly go with the flow and also have conversation with my model to make them feel comfortable.



OON: Do you ever struggle with your identity as a British/Nepali and your experience going out in two different cultures?


I think I have always struggled with my own identity but after moving to London and having that sense of freedom made me express that side of me. I am from Ashford/kent where the nepali community is huge and everybody knows everyone. So, coming from that restricted place to London was a good opportunity for me to be expressive. I did struggle and I still struggle sometimes but I am learning to be myself and take this chance to discover my creativity that comes from my two different cultures.

OON: What's the best advice you have ever received, and what advice will you give to someone who is interested to do photography?


I think the best advice I could think right now was from my tutor at year 11 in GCSE. He was my art teacher and he really believed in me it's not advice but he really pushed me with my work and was always there to motivate me.

The advice that I will give who are interested in photography is keep doing what you love and you just have to keep pushing yourself. Keep shooting play around with the materials you have. It doesn't have to be perfect but make sure you are doing what you love.



OON: What motivates you to take pictures?


The messages I receive and also the joy it gives me when I am shooting. I also want the younger generation to not be ashamed of their culture or where they come from? I want them to use their power of having a rich culture and experiment with themselves or in the field they are working at. Be expressive of who you are.



OON: What is your upcoming plans and goals?


For now, I just want to keep shooting and working on Pahichan. I have got lots of things on my mind. But for now I just want to focus on my project "Pahichan".